Sunday 28 January 2007 Filed in:
News
Following our announcement earlier in the week about
Ad Astra Games
licence to publish
Power
Projection
, we are very pleased to bring you a preview of the
Traveller
miniatures range they are going to be releasing.
.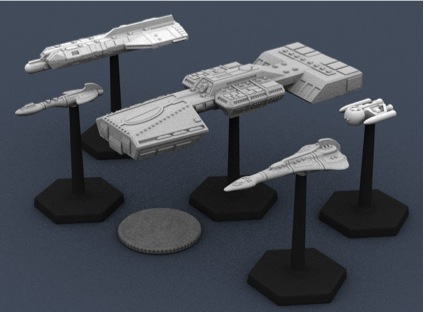 The ships pictured above are the Plankwell Class Dreadnought, the Azhanti High Lightning, a Chrysathemum class Destroyer, and two Zhodani ships (a Zhdavldlitz class Light Cruiser and a Zhdiak class Light Destroyer).
The pictures below show a situation that an Azhanti High Lightning doesn't want to get into!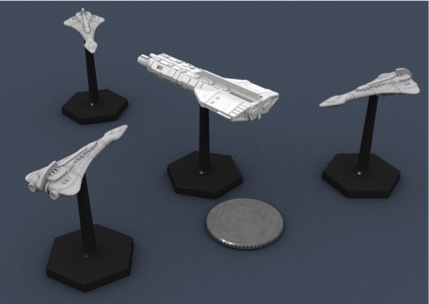 These pictures are CGI models of the final sculptures produced by
Charles Oines
for Ad Astra Games.
If you're interested in the chat about these new models, have a look at Ad Astra Games'
forums
.
Monday 22 January 2007 Filed in:
News
BITS
are proud to announce closer ties with yet another game publisher. Following on from our collaboration with Jon Tuffley at
Ground Zero Games
to produce our much-applauded
Traveller
starship combat system
Power Projection
, we are now beginning printing of the
Power Projection: Fleet
rules through Ken Burnside at
Ad Astra Games
in the USA.
We continue to have stock of the original UK printings of both
Power Projection: Escort
and
Fleet
, but this agreement allows us to produce and distribute the updated version of
Fleet
more easily in the USA. We will continue to stock and distribute the original UK printing to distributors, mail order customers and at conventions, but will replace these with the US-printed version over time.
We will only be printing
Fleet
at Ad Astra; though
Escort
is a useful, and fun, lead-in to
Power Projection
, the economics of printing meant it wasn't worth producing
Escort
in the USA: for our first out-source to Ad Astra we wanted to focus on the complete rules set in
Fleet
and see how it went.
We intend to collaborate further with Ken and his team at Ad Astra on future projects, just as we continue to work very closely with Jon at Ground Zero Games with our upcoming
Power Projection: Reinforcements
book.
Andy Lilly
http://www.bitsuk.net/
http://www.powerprojection.net/
Monday 15 January 2007 Filed in:
Products
I'm finding myself awake at unusual times at the moment after the birth of my son, so I've killing some of the time by converting designs into
Power Projection
. I'm dropping them onto PDFs as a practice for when work starts in vengeance on
Power Projection: Reinforcements'
graphics. First up is a conversion of a Fleet Destroyer from QLI's excellent
Traveller's Aide #7: Fighting Ships
. If you're into starship battles you should consider this book as it presents many Solomani Rim War Era Imperial designed ships (which could be used on both sides of a conflict) and are easily convertible to Power Projection. And all for $5.
RPG Now
have the book available.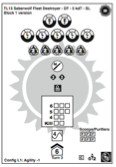 Click on the icon above to be taken to
the Shipyard
to download the design. Enjoy! I'm not certain what ship I'll do next, but I'm tempted by the Huron Class Bombardment Cruiser thanks to the picture shown on the front of
Traveller 1248
.