TravCon 08 - Final Report & Pictures
Neil has sent his final
TravCon
08
report:
Saturday night ended with pretty much all the con attendees having a drink in the bar. Did we mention that the bar was open 24-hour? A couple of attendees checked the claim and found that yes the staff would serve until the early hours of the morning.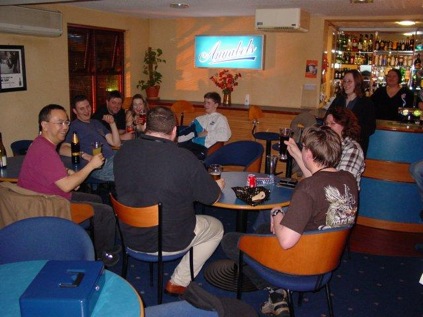 The TAS 24 hour bar.

Sunday started a little later than planed with two RPG games being ran. One by Max Kettley who was running his first con game for
BITS
.
Another group gave the combat system for the new
Mongoose Traveller
rule system a test run.

The afternoon session saw the end of one of the morning games and a short run out for the
BITS
classic scenario
Family Business
.


The Awards!

The con was wrapped up with a closing ceremony (posh term for getting everyone in the same room) hosted by our own Andy Lilly. A couple of
awards were handed out including the
Ping, F*** It
award. I'll leave the details so as not to get them wrong. With the closing ceremony ending with very long list of thank yous we all then started to thin out and make our weary way home.

Well that was the first of the resurrected TravCons. With a little bit of luck there will be a TravCon 2009, a bit bigger and obviously better.

--
All the best,
Neil


All pictures from TravCon 08 can be found here.

If you want copies of the higher resolution images and you attended TravCon 08, please drop us an email.