Imperium 3k Firesale by Avalanche Press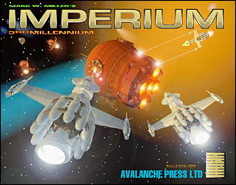 Several years ago, Avalanche Press Ltd re-released the game Imperium in a new edition called Imperium Third Millennium. Imperium was originally published by the Conflict Games Company (which became part of GDW) and presents the period and battles described in the recent GURPS Traveller supplement Interstellar Wars when Terra was fighting for survival against the Vilani First Imperium.

The main rules remained unchanged, but some of the conflict rules were 'updated'. The graphic look of the game was also modernised.


However, Avalanche have announced that the remaining Imperium Third Millennium stock will be destroyed after 4th July 2006 to create space for new games. They are clearing the remaining stock at $7.50 a box (75% off). With the strong pound/dollar exchange rate, this may well make a good saving, even with the $25 shipping to Europe.